| | |
| --- | --- |
| Lead Management | Leads are the lifeblood of any dealership and your ability to act on them quickly and efficiently can have a huge impact on the bottom line. |
Autoclick: Your Car Dealer Solution
Increasing return customers and first-time sales by as little as 5% can greatly increase your dealership's bottom line. With Autoclick you can manage Internet, walk-in, and phone contacts from one easy-to-use interface. We can show you how with Autoclick!
Single View Lead Management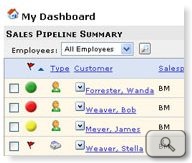 View your customer's information right from your Dashboard.
Sequence customers by your preference for easy navigation.
View your daily task list and your weekly appointments.
Create tasks, appointments, emails, and phone comments right from your Dashboard.
Manage Leads From Multiple Sources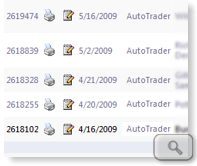 Autoclick's lead parcing technology allows you to manage leads from multiple sources with one easy to use application.
AutoTrader.com
Cars.com
Imotors.com
Autoweb.com

Dealer.com
Vehix.com
AutoByTel.com
AutoVantage

AutoNet
Dealix
AutoTrakk
CarCast
Performance Tracking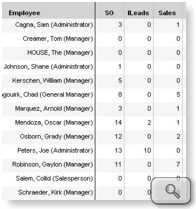 Monitor and act on key business metrics with Autoclick's extensive reporting capabilities.
Find out where your customers are coming from by running a Traffic report.
See how your sales team is following-up with the Performance Report.
View Sales Team Daily and Weekly Planners.
Track your dealership sales ratios with only a few clicks.
Multi-User Capabilities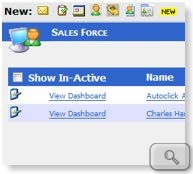 Autoclick's state of the art technology gives you true multi-user capability allowing close cooperation within your sales team and management.
Users within a group access a single database of vehicles, customers, and leads.
Salesperson and manager share data and work together to make sales.
Manager can assign or re-assign customers to different salespeople.
Create Marketing Campaigns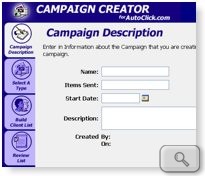 Easily create mailing lists.
Build custom email and letter templates.
Create and run email campaigns for active and inactive customers.
Lead Management Features
Single View Lead Management

Performance Tracking

Multi-User Enabled

Create Marketing Campaigns

Optional AC Lead Package
Are you a Credit Acceptance Dealer?
If so, with Autoclick's secure DWI form you can take credit applications from your web site that post directly into Credit Acceptance's CAPS® system.
Click here to find out more.